Yes. Log out of Fun Run. Use the "Forgot Password" function in the login screen: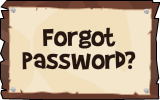 , and you will receive an email and follow the instructions sent to your email. Note that you need to have an email address registered in order to change your password.
If you didn't get an email from us after trying to reset your password, please contact us using the form on the bottom of this page.