Arena Races
These races have 8 players and 3 winners.
The last player to reach each checkpoint is eliminated.
Stay ahead in order to survive!
The Arena Runs
One arena run lasts until you have won 12 races or lost 3 races.
For each win you get, your Arena Chest gets upgraded. Better chests means better rewards.
The Arena Chests contain gems, experience and unique arena items.
Seasons
The Arena keeps fresh by changing the maps to show a new area of the world.
There are two seasons each week. You can check the remaining time for a seasons by clicking the Arena tab on the Leaderboard menu in the game. A season lasts 3-4 days. Arena points are reset at the start of each season.
Arena Points
Gain Arena points to get sweet rewards and fight your way from a Challenger to the Grand Champion each season.
How to get them

(0 points if you leave before getting eliminated)
Arena Tiers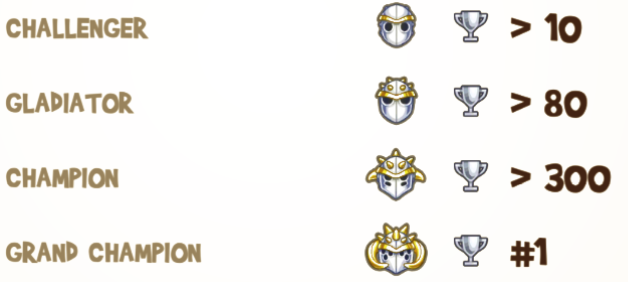 Get prizes for each tier you reach, each season! The Grand Champion is the #1 Arena player at the end of the season. The Grand Champion gets one of three prizes from the season's Champion Chest. To see which prize are available, click on the three dots on the Arena button in the main menu of the game. The click "Info" in the top right corner, and scroll down until you find the "See Grand Champion prize" button.
Special Prize
If you achieve Grand Champion tier in all the different Arena areas, you will receive the mythical Golden Lion!
Arena Season Ticket
The Arena Ticket gives you unlimited free Arena Runs for the reminder of the current season.
The maximum duration of the Arena Ticket is 3-4 days. The duration left is shown in the window where you buy the Arena Ticket.